Welcome to the Utrechtse Studenten Cantorij! The USCantorij is the student chamber choir of Utrecht. The choir consists of talented singers, the vast majority of whom study at Utrecht University or the Utrecht University of Applied Sciences. It is a close-knit choir where enthusiasm and passion are combined with ambition. The USCantorij has been giving concerts on varied themes for over 55 years since it was founded in 1964. Besides the concerts that conclude each program three times a year, the USCantorij performs regularly at other occasions, such as festive gatherings of Utrecht University, festivals like the Festival of New Music, the International Chamber Music Festival, the Choir Biennale, Leading Voices, and more. The USCantorij has also been invited for collaborations by renowned ensembles such as Capella Amsterdam and the Netherlands Philharmonic Orchestra. The choir has made international tours to Brazil, Catalonia, England, Slovenia, Sweden, Lithuania and more. All these experiences have made the USCantorij a close-knit choir that, through expertise and enthusiasm, is able to turn every concert into a beautiful experience. 
Repertoire
The USCantorij sings classical music in different styles from almost all periods; from the Renaissance and Baroque to the 21st century. Each year the choir performs three new programs. The repertoire is mostly a cappella, but occasionally the USCantorij collaborates with professional musicians and ensembles. The choir also regularly sings newly written compositions. Many young up-and-coming composers have written new work especially for the USCantorij, as well as renowned composers.
Conductor
Fokko Oldenhuis has been conducting the Utrechtse Studenten Cantorij since 2009. He studied at the conservatories of Groningen and Amsterdam and concluded his studies in 1997 with a diploma in choral conducting (UM) with honors. His teachers included Bruno de Greeve and Daniel Reuss.
Besides the Utrechtse Studenten Cantorij, Fokko is conductor of Kamerkoor NEXT, Slotkoor and choir Neon. He has given concerts and performances on national radio and television and has toured throughout Europe and in Brazil. Fokko is a teacher and course leader at the Utrecht Conservatory in the Application Course for Choral Conducting and the international Kurt Thomas Course. Fokko is advisor to the Foundation Cultural Events at the Nicolaïkerk Utrecht and member of the artistic committee of The Netherlands Student Choir. In 2011 he wrote the book 'Doen en Laten' - Rehearsal technique.
Go to www.fokkooldenhuis.nl for more information.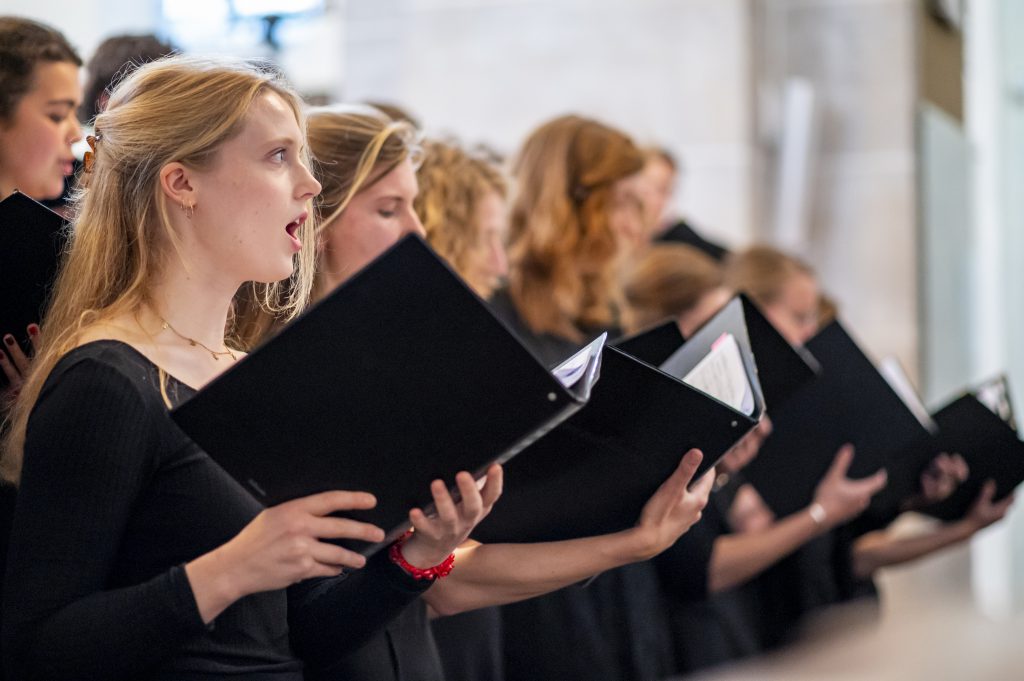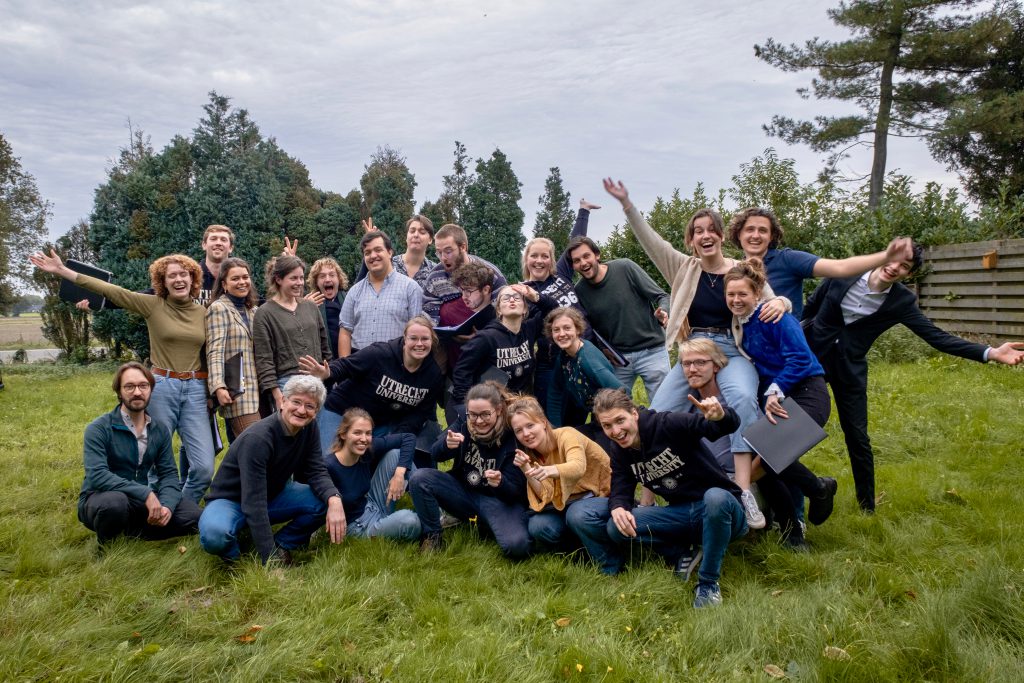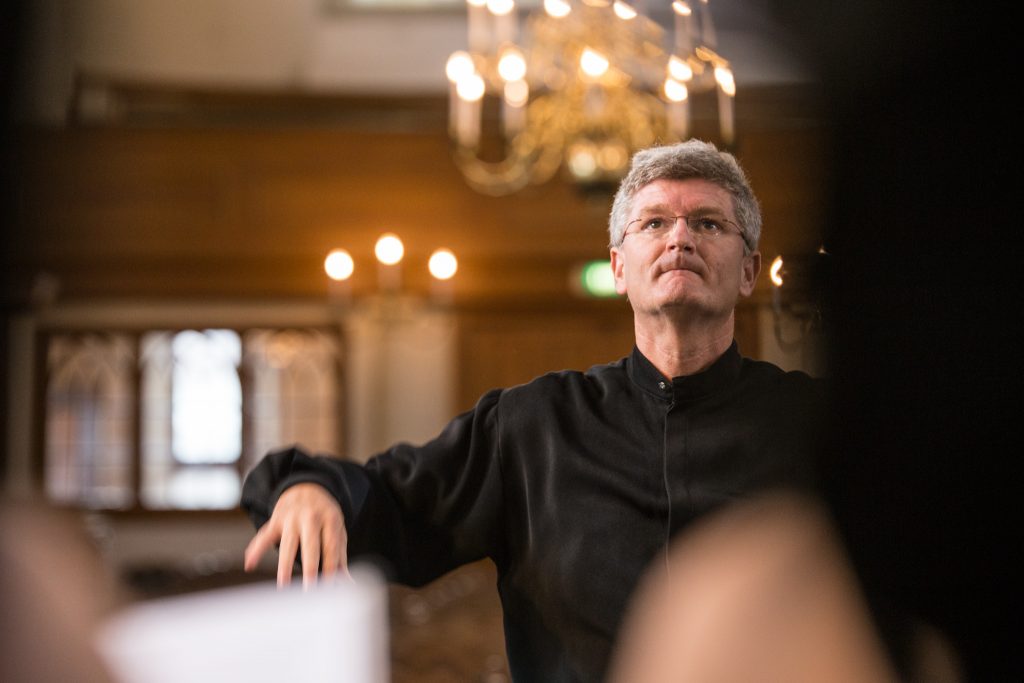 Do you love to sing? Are you looking for a choir with a high level and warm and welcoming people? Then join the Utrechtse Studenten Cantorij! The choir consists of around thirty ambitious students. We rehearse every Tuesday from 20:30 to 23:00 at the Parnassos Cultural Centre in Utrecht and perform three varied programs per year.
International and exchange students are more than welcome! Please note that the main language used during rehearsals is Dutch. But no worries, there will always be someone sitting next to you willing to help translate!
As a member, you must be able to make the music your own, either by sight-reading the sheet music or practicing at home in order to rehearse together pleasantly and productively.
Becoming a member means - besides making a lot of beautiful music together - a lot of fun! We have drinks after every rehearsal on Tuesday night, we eat dinner together after rehearsal days and occasionally attend and organize side activities together. Our biannual rehearsal weekends bring us all closer together, as well as the icing on the cake: the concerts. So you'll meet a lot of nice new people!
Membership costs €15,50 per month for students and €21,- per month for non-students (counting 10 months per year).
So do you love singing? Do you get excited about challenging music and do you feel like becoming part of a close-knit group? Curious about that euphoric feeling after a great concert? Then we hope to see you at one of our open rehearsals!
To get an impression, check out our Instagram, Facebook, or look up 'Utrechtse Studenten Cantorij' on YouTube! 
Open rehearsals
We rehearse weekly on Tuesdays from 20.30 to 23.00 in the Parnassos Cultural Centre (Kruisstraat 201, room 024, Utrecht). If you are thinking of becoming a member, you are welcome to attend one of our open rehearsals! These take place three times a year, during the first two rehearsals of a new program. During an open rehearsal you can experience what the USCantorij is like without any obligations. If you decide that you want to become a member, you can sign up for an audition, either at the rehearsal or via the e-mail address below.
The next open rehearsals are on 5 and 12 September 2023. Sign up for an open rehearsal via secretaris@uscantorij.nl.
Audition
If you decide you want to become a member, you can sign up for an audition during an open rehearsal, or by sending an email via the link below. The next auditions will be in the first weeks of our new project.
The audition consists of:
Singing a short music piece. The sheet music will be sent to you in advance so that you can study at home.
A rhythm exercise. This rhythm exercise will also be sent to you in advance.
A vocal test, where we look at your range, sound and technique.
Sign up for an audition via secretaris@uscantorij.nl
If you have any questions, don't hesitate to ask them via that same e-mail address!